Santana
Blessings And Miracles
Featuring Steve Winwood, Rob Thomas, Chris Stapleton, Chick Corea, Diane Warren, Kirk Hammett, and more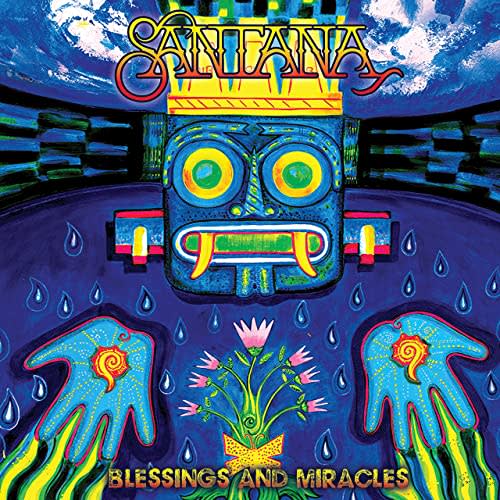 On Blessings And Miracles, music legend and guitar master Carlos Santana delivers one of the most ambitious, inspired and flat-out magical records of his storied career. There's thrilling feats of bravura musicianship that pair the guitar master with fellow icons like Chick Corea and Steve Winwood, knockout rockers with Metallica's Kirk Hammett and Living Colour's Corey Glover, and genre-bending, hook-filled celebrations featuring Rob Thomas, Chris Stapleton, G-Eazy, American Authors and Ally Brooke, among others.
Santana immersed himself in the creation of Blessings And Miracles over a two-year period, serving as producer and collaborating with record makers and writers such as Diane Warren, Narada Michael Walden, Chris Stapleton, Peter Stengaard and Gregg Wattenberg. It's an album full of revelations and epiphanies – through songs guaranteed to light up both radio playlists and concert stages.
Tracklist Santana – Blessings And Miracles
1. Ghost Of Future Pull/New Light
2. Santana Celebration
3. Rumbalero (Featuring Salvador Santana & Asdru Sierra)
4. Joy (Carlos Santana & Chris Stapleton)
5. Move (Carlos Santana, Rob Thomas, Zac Barnett & American Authors)
6. A Whiter Shade Of Pale (Featuring Steve Winwood)
7. Break (Featuring Ally Brooke)
8. She's Fire (Diane Warren, G-Eazy & Carlos Santana)
9. Peace Power (Featuring Corey Glover)
10. America For Sale (Featuring Kirk Hammett & Marc Osegueda)
11. Breathing Underwater (Featuring Stella Santana, Avi Snow, MVCA)
12. Mother Yes
13. Song For Cindy
14. Angel Choir (Featuring Gayle Moran Corea)/All Together (Featuring Chick Corea)
15. Ghost Of Future Pull II
Label: BMG
Release date: 15 October 2021
Ook op Blues Magazine ...