PRIDE & JOY: THE TEXAS BLUES OF STEVIE RAY VAUGHAN DIGITAL EXHIBIT NOW OPEN
The GRAMMY Museum has opened the digital exhibit Pride & Joy: The Texas Blues of Stevie Ray Vaughan at their official website. Visit GRAMMYMuseum.org to see SRV's guitars, stage clothes, gear, and more.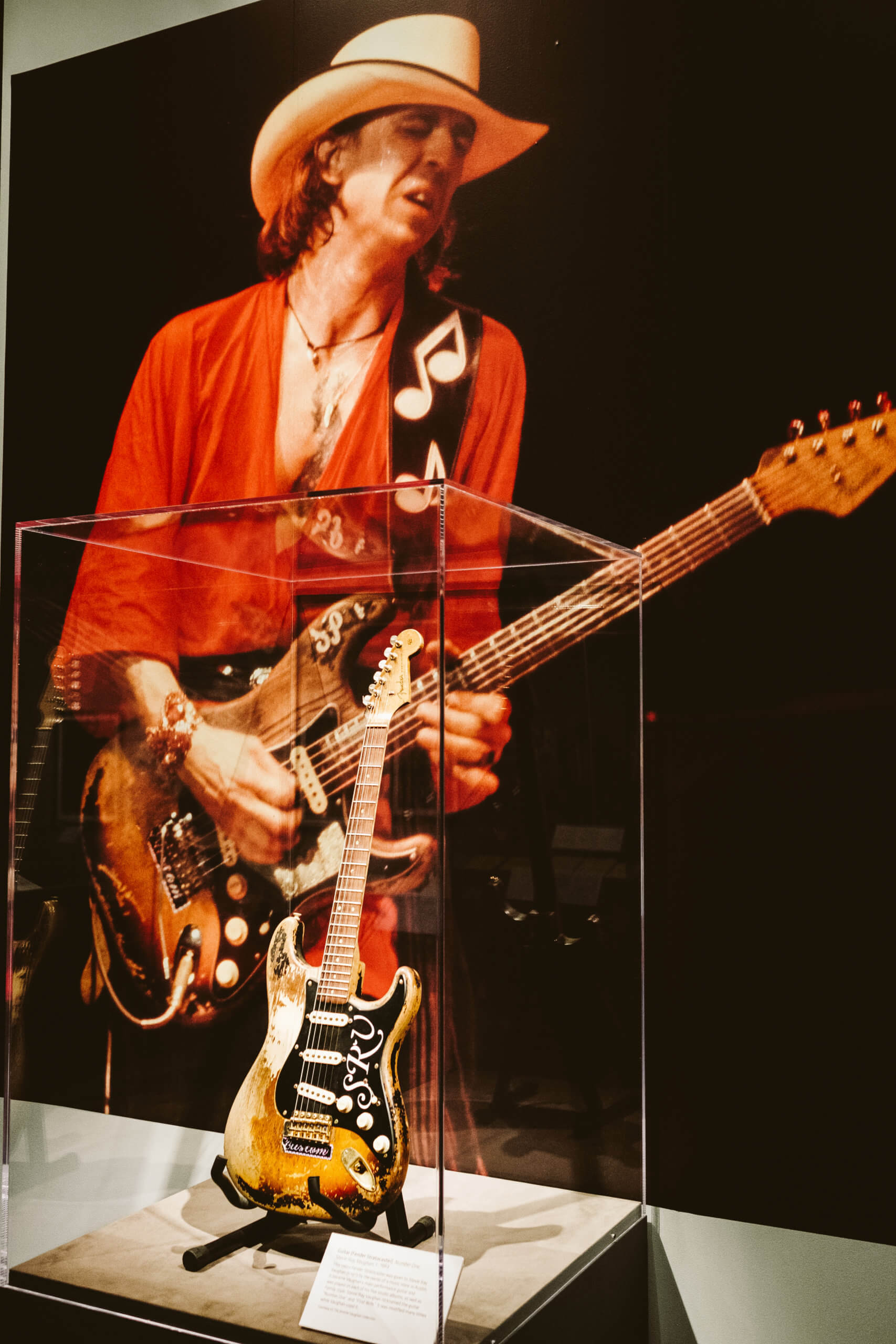 The SRV exhibit has previously appeared at the GRAMMY Museum L.A. Live, the Woody Guthrie Center, the GRAMMY Museum Mississippi, and The Bullock Texas State History Museum.
Stevie Ray Vaughan was the most significant guitar stylist of the post-blues-rock era. No musician did more to energize the 1980s blues revival than the Texas guitarist, whose roots and influences included everyone from Albert and B.B. King, Guitar Slim, and Clarence "Gatemouth" Brown, to Jimi Hendrix and Buddy Guy. Vaughan ignited new interest in the blues at a time when longtime fans of the music were relying on fading legends for their blues fix and a new generation of rock fans had all but annulled the blues-rock marriage of the 1960s.
Vaughan was born and raised in the Oak Cliff section of Dallas. From the start, his main inspiration was his older brother, Jimmie, who introduced him to both the guitar and the blues and later became the creative force behind the group, the Fabulous Thunderbirds. After numerous bands, Vaughan settled on Double Trouble, which was comprised of bass player Tommy Shannon and drummer Chris Layton.
Based out of Austin, Texas, an important blues center in the 1980s, Stevie Ray Vaughan and Double Trouble attracted blues and rock fans, thanks to Vaughan's dazzling concert performances, critically acclaimed recordings, and guitar virtuosity that transformed nearly every solo into an emotionally intense roller coaster ride. Unfortunately, Vaughan never got to reach his creative peak. Tragically, he died in 1990 in a helicopter crash in Wisconsin. He was only 35 years old.
Pride & Joy: The Texas Blues of Stevie Ray Vaughan Digital Exhibit, visit GRAMMYMuseum.org
Ook op Blues Magazine ...